The
Crazy Cooking Challenge
this month is cheesecake. Doesn't everyone love cheesecake?
This will be
the
dessert for the week so I'm up for the challenge.
Cheesecake is one of those recipes that is very flexible. Make one recipe and with minimal effort -- or 'add-ons' -- you can have two or three varieties for dessert.
As long as I'm baking I like to make the most of it. Hey, I make a mess when I cook and bake so if I can do 'add-ons' it is definitely worth the
mess
time.
We are both chocolate lovers and fruit lovers. It's easy enough to add fresh fruit using seasonal blueberries, peaches, or any fresh fruit you have on hand so I'm going for it. Below* is an easy recipe.
A ganache for the chocolate lovers (that's me, lovely daughter, and grampy) is also quick and easy to make.*
Prepare the fresh fruit in advance, though it only takes about 10 minutes to prep and wait time is anywhere from 45 minutes to an hour or two (berries are ready sooner than heartier stone fruits like peaches, nectarines, etc.)
When I made the cheesecake I decided to save some of the batter to make small cheesecakes in a muffin pan so I could add the fruit. This is also a great dessert for guests or parties.
The recipe I made is one that was from a co-worker way back in the '80's which I've made often and it's always a hit. Though I have to say I did see this recipe on-line recently when I was looking for a smaller size recipe (which I didn't find), but I can't remember which site it was.
Cheesecake Recipe
Ingredients
32 oz. Temptee Cream Cheese (or any whipped style cream cheese)
16 oz. sour cream
1 1/2 cups sugar
1 stick butter
5 eggs
2 tsp. vanilla
2 TBLS. cornstarch
Prep Tips
: Using a 9-10" springform pan, wrap aluminum foil around the bottom of the pan to prevent water from seeping into the cake. Fill a baking pan (large enough to hold the springform pan) with 1" of water. Pre-heat oven to 350 degrees.
Directions
Cream butter and sugar together, then add the remaining ingredients and blend until smooth. This only takes about 2 minutes (depending on the speed of your mixer).
Pour the batter into the springform pan and set aside.
Now place the baking pan with the water into the pre-heated oven. (heads up - this step kinda' helps to prevent water from spilling (yes, I did spill the water)). Now add the springform pan to the water bath already in the oven.
Bake approximately 1 hour, or until the cake doesn't jiggle in the middle. I used a toothpick to be sure it was cooked in the center.
Let cool and then add your favorite fruit or chocolate topping.
Using fresh berries that are starting to wilt is a great way to make a fruit topping for the cheesecake. I like to macerate the fruit. It is easy and a great way to use up fruit that is starting to over-ripen. I don't use any specific measurements for this process because there are varying levels of sweetness in different berries and fruits based on the stage of ripeness.
*Fresh Fruit Topping
Macerate the fruit which is really just a way to break down the fruit using sugar and acidity. It only takes a little bit of sugar, a squeeze or two of citrus (lemon or orange), and for 'adults only' add a splash of brandy or orange liqueur.
Taste for desired sweetness or tartness and add additional ingredients accordingly.
Let the fruit absorb the juices.
Plan ahead if you want to use the fruit as soon as possible. The berries will need anywhere from 20 minutes to 45 minutes, depending on ripeness.
Stone fruits are meatier and will need at least an hour or more to breakdown and absorb the flavors.
Chocolate ganache* is just melting chopped chocolate or chocolate chips in heated milk or cream. I make just enough for one or two servings.
Add 2 tablespoons of milk or half & half (I even used coconut milk) to a small pyrex dish and heat in microwave for 20 seconds.
Remove from microwave and add a 2 tablespoons of chocolate chips stirring until melted. If it is not thick enough, add additional chips slowly but stirring quickly before the milk becomes too cool.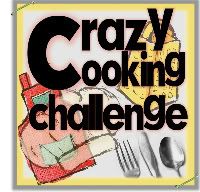 A huge THANK YOU to Tina at
Moms Crazy Cooking
for hosting The Crazy Cooking Challenge and for all her hard work and commitment. This is the last Crazy Cooking Challenge for the year and I will look forward to see what Tina will be cooking up next.
Here are a few of the challenges I participated in:
Fruit Smoothies
Grilled Cheese - Not An Ordinary Sandwich
Blueberry Muffins With Streusel Topping
Spaghetti With Red Sauce - Light & Easy
Chocolate Cake

Mangia
Winelady Cooks