"Waste not, want not" was my grandmother's motto especially when we had many leftovers.
My mother, the creative guru of her time, tried to find ways to re-make some of the leftovers to compliment other dishes she would make.
Since eating is an important element of our being, we should make the most of the foods we have and enjoy it. So this weekend my Sunday brunch was born.
I realized there were still a few items left in my fridge from Thursday. It wasn't really enough to make another meal so I thought everyone would enjoy a brunch. Then when we were finished we could spend the better part of the day outside playing with the kids in the yard.
This was simple since I only had cranberry relish, a cup of dressing and some fresh fruit and a few stalks of asparagus. I'm not the most creative cook in the kitchen but I pulled it off.
The star of the brunch was the pancakes with cranberry relish. Eat 'em plain or with the cranberry for those who like it. The kids love pancakes with chocolate chips as their topping. The rest of us enjoyed the sweet-tart cranberry relish.
I didn't make a lot of different items for this brunch. My mission was to use what I already had rather than make more dishes and have more leftovers.
After Thanksgiving Brunch Menu
Pancakes with Cranberry Orange Relish
Sausage Stuffing Patties
Asparagus Omelet
Fresh fruit compote
Coffee and Hot Chocolate
This was just enough to satisfy everyone and there were no more leftovers. Now that was a successful mission, even if I say so myself.
I have shared this on EKat's Kitchen Friday Potluck.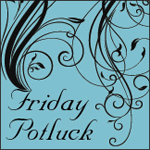 Mangia!
Winelady Cooks